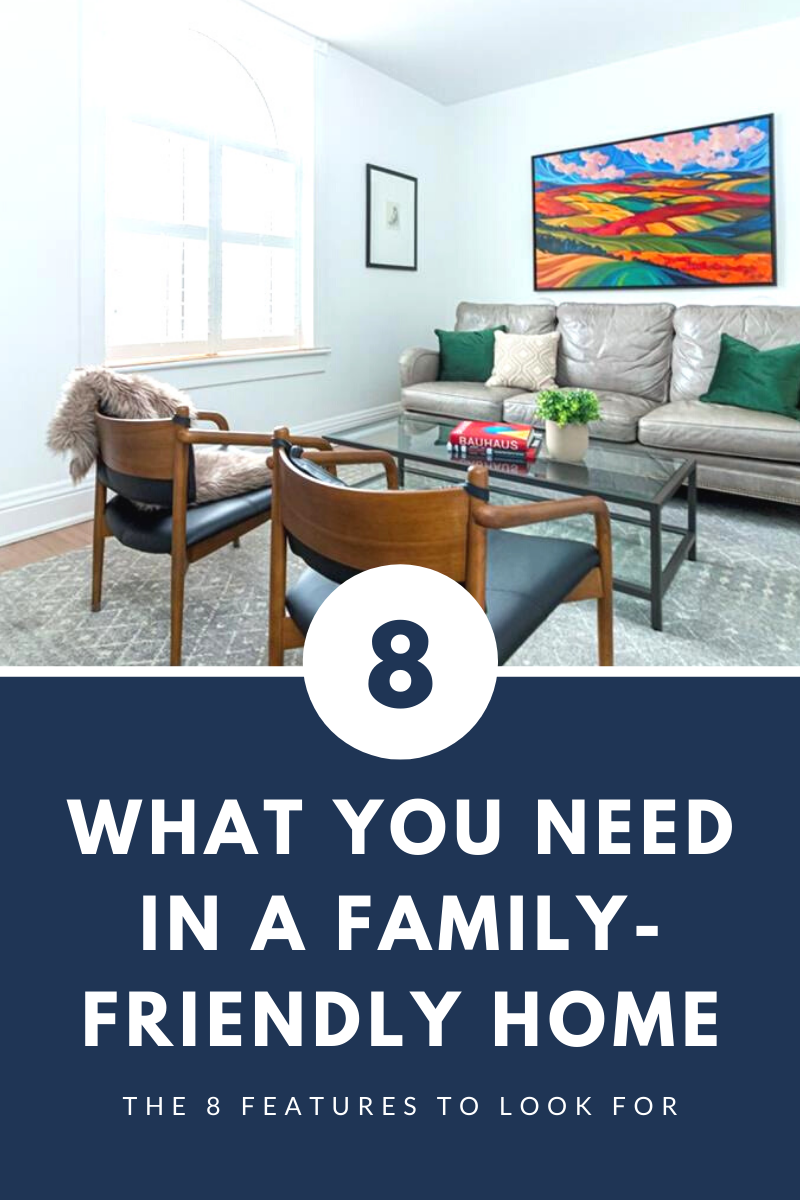 Written by: Number1Movers
Most people would agree that anything you do becomes that much more complicated when you add children into the equation, and buying a home is no exception to this rule. To ensure the best possible decision and many happy moments in the future, paying attention to a few things during the house-hunting process is essential. Even though all happy families are alike, according to Leo Tolstoy, compiling a list of must-haves that applies to each would be impossible. Still, there are several universal features to look for in a family-friendly home. Here is what you should be on the lookout for if you have or are planning to have a family in the near future.
A good location
Even though every family has its idea of the perfect location, most would agree that proximity to school, work, and essential amenities, as far away from the noise and pollution as possible, is vital.
To find the ideal location for your new family home, compile a list of priorities first. Then, consider your budget and the areas in Hamilton that appeal to you the most. Only once you know what you want and where you can find it will you be able to choose the perfect property for your family. After that, the only thing you will need to do is find a crew that can help you move into your new Hamilton home.
Outdoor space
The first thing buyers notice when looking at houses is their exterior. Paying attention to this is even more important if you want to purchase a home for your family.
Ample outdoor space is paramount for children of all ages. After all, if you want to ensure bedtime without endless negotiation, you need to tire your little ones out first. And what better way to do that than to let them play in the backyard of your family home? A cozy nook in the garden for afternoon relaxation can be beneficial for parents, as well.
However, the square footage of the outdoor space is not the only thing you should focus on. Your green oasis needs to be safe before anything else. The presence of a good fence or the possibility to add one should be your top priority.
Parking space
If you have children, then you probably have a car, as well. And if you have a car, you need to have a suitable place for it in your new home. Imagine driving up to your house with the kids after a long day only to realize there is no available parking in front of it. A long family walk with cranky kids, and heavy shopping bags is every parent's nightmare.
To avoid this scenario, look for a property that has a garage. If you cannot find one within your price range, at least make sure you have a parking spot in front of your home. Your future tired self will surely be grateful.
A simple layout
If you have young kids, simplicity is one of the most crucial features to look for in a family-friendly home. Ideally, this means your new house shouldn't have a bunch of long hallways and doors. Instead, look for an open floor plan where you will be able to supervise your children while cooking, cleaning, or relaxing in front of the TV.
Moreover, single-story houses might be a better idea than those with steep and slippery staircases that lead to the second floor. Stairs are not only a potential hazard for kids, but they will also make your life a little bit harder if you constantly need to go up and down with a toddler in your arms. If you are not into the idea of a single-story home, make sure to install a baby gate to prevent any accidents.
Storage
For families with kids, there is never enough storage space. There are clothes, toys, school supplies, dishes, and many other things to take into account. Therefore, be on the lookout for a house that can accommodate not only you and your kids but everything else that comes with them. This way, you will ensure good organization and easy clean-up at all times.
Big kitchen
Somehow, a big chunk of family life always revolves around the kitchen. Whether it's satisfying your kids' hunger, washing the dishes after dinner, or baking cookies as a family, you will spend a lot of time in it. And your little ones will likely be near, as well. Because of this, a house with a big kitchen is probably something you should put on your list of priorities.
Big bathroom
Even though you (hopefully) won't spend a lot of time in the bathroom every day, a spacious one will ensure smooth mornings and pleasant evenings. If you still need to give your kids baths, make sure your new bathroom has a bathtub instead of a shower.
Easy maintenance
The fact that kids come with a lot of mess is no secret. No matter how well-behaved they are, accidents are bound to occur with tiny fingers and restless feet. So, if you don't want your new home to look like a war field in a few months, make sure to look for a house that is as low-maintenance as possible.
Tiles, hardwood, and vinyl flooring
won't give you headaches every time a spill or a stain needs to be cleaned up, unlike carpeting. Additionally, tiled walls in the bathroom and glossy finishes everywhere else will ensure easy maintenance, even when the youngest members of your family decide to explore their painting skills.
In conclusion
This list of features to look for in a family-friendly home could go on forever, as there is an endless number of things that can make life with kids more convenient. However, since finding a property that includes all of them would be impossible, the best thing you can do is create a list of priorities according to your family's needs and budget. Once you do that, make sure to contact your real estate agent and let them do their magic! You'll be moving in sooner than you expected.