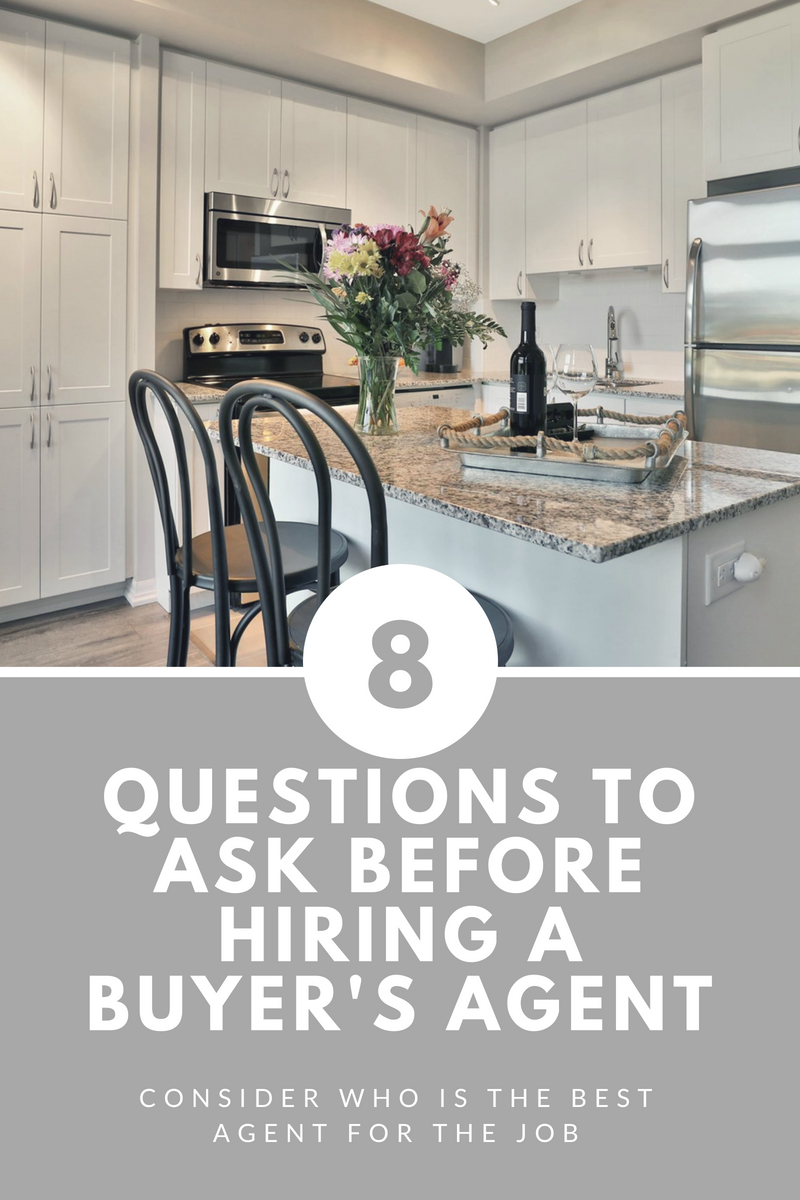 1.

                  
Have you helped people like me?
Every buyer has different needs – whether it be an investor, a first-time homebuyer or someone looking to downsize. Each situation is unique and it's important for your real estate agent to know how to handle every type of buyer. 
2.

                  
Are you familiar with the neighbourhoods I am interested in?
Having a real estate agent who is familiar with the area you want to be in can be incredibly helpful. They can tell you where the nearest schools are, the grocery store, comment on the neighbourhood's safety and demographic so you can better determine the kind of lifestyle the neighbourhood offers.
3.

                  
What is your expertise in the type of property I want to buy?
Just like each buyer is unique, so is each style of housing. A detached bungalow can pose a different offer & pricing strategy than a high-rise condo. Make sure your agent is familiar with wet basements in older homes and rules set out by condos as those can be key deciding factors when purchasing. 
4.

                  
How will you advocate for me during offer negotiations?
So you have found your dream home and have made an offer. How will your agent represent you? As this person is the single go-between you, the seller and acquiring your perfect home, your agent should have a solid negotiating strategy AND have a Plan B in place for you should the offer not work out. 
5.

                  
What am I signing?
NEVER sign something without knowing the full terms, legalities and your role in the contract. Choose a good real estate agent who can walk you through a buyer representation agreement, multiple representation scenarios, conditions in the offer paperwork and disclosures. 
6.

                  
What are your past clients saying?
Does the agent have online reviews? Testimonials on their website? Can they provide you with contact information of past clients so you can talk to them? You might not even need to call their references but how an agent answers this question could tell you a lot. 
7.

                  
Are there home service professionals you can recommend along the way?
A great agent knows to align themselves with several experts in the biz.  Lawyers, mortgage brokers, home inspectors are vital but also ask the agent if they know a good handyman, painter or cleaner as trusted referrals can really help you once you've purchased the perfect home. 
8.

                  
Go with your gut. 
At the end of the day, sometimes the right agent is the one you connect with on a more personal level. Demonstrating that they have a vested interest in your real estate goals and have the ability to listen and care about you – that matters too.